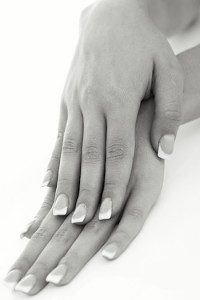 My goal as a facial plastic surgeon in Atlanta is to help people feel confident about how they look. I know that facial plastic surgery garners a great deal of attention because your face is the first thing people notice about you.
However, your hands are also visible for all to see. People often overlook how the appearance of their hands makes them feel until they are greeted with a handshake, go to try on a ring at the jewelry store or see their hands in a picture on Facebook.
Fortunately, there are many ways to effectively treat hands that are showing the signs of aging. Let me share some of the benefits of hand rejuvenation with you.
Hand Rejuvenation Restores Volume and Elasticity
As you get older, the underlying layer of fat in your hands is depleted.This cause the veins, joints, tendons and bones in your hands to become more visible. The skin on your hands sag and develop wrinkles. They may also bruise easily.
Hand rejuvenation restores fullness to your hands. Dermal fillers like Restylane Lyft, Radiesse, and Juvederm can be used to accomplish this by hydrating the skin and stimulating collagen production.
Hand Rejuvenation Removes Spots and Blemishes
As your hands age and interact with the environment they may develop spots and blemishes. Sun damage may cause your hands to look reddish or discolored. Laser treatments and chemical peels are hand rejuvenation techniques that remove the damaged top layer of skin. New collagen growth is encouraged by these procedures. As a result, the skin tone, color and texture of your hands will improve and appear more youthful.
Hand Rejuvenation Compliments Facial Plastic Surgery
My patients travel to the Maloney Center from all over the metropolitan Atlanta area for Botox® treatments, facelifts and nose surgery. Once patients see the results that these procedures have on their appearance, it is not unusual for them to want the same restoration for hands.
Hand rejuvenation nicely complements other cosmetic surgery treatments you have undergone.
If you want to have youthful looking hands to match the revitalized look of your face, I encourage you to contact me for a consultation. We can discuss how hand rejuvenation fits in with your overall aesthetic goals and identify the procedure that is best for you.
I take great care to make sure hand rejuvenation treatments are customized to the needs of each individual patient. This is important because each patient's cosmetic goals are different and each treatment product needs to be carefully targeted to specific areas of the hand.
There's no time like the present to give your hands the gift of a youthful appearance. Contact the Maloney Center at 770-804-0007 to get started today.