Lip Augmentation (Lip Enhancement) Options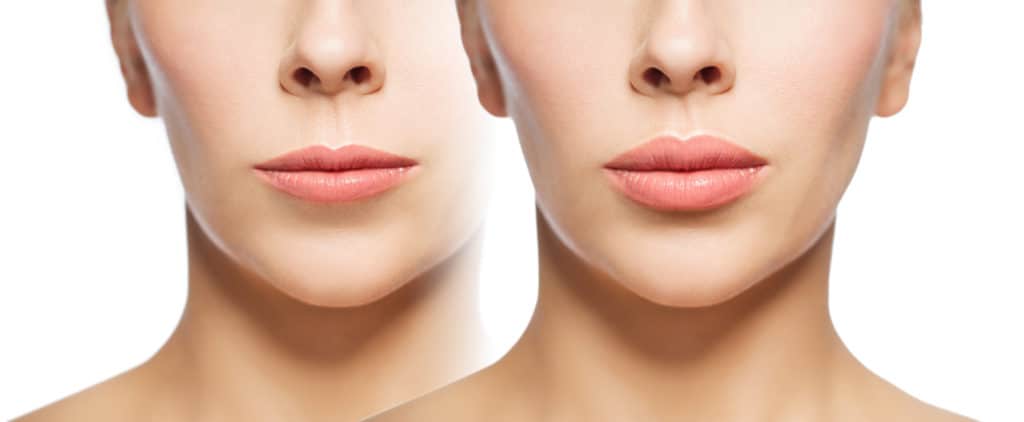 Full, luscious, and shapely lips are a sign of youthful beauty. The lips are one of the most noticeable features of the face, but hereditary factors and the aging process leave some people unsatisfied with the appearance of theirs. Many patients desire cosmetic treatment known as lip augmentation or lip enhancement to restore shape and volume to the lips. At Maloney Center in Atlanta, Georgia, we have numerous solutions to help our patients achieve this goal using both surgical and non-surgical methods.
Lip Fat Transfer
Fat transfer to the lips has become more popular in recent years with the great emphasis placed on having fuller, plumper lips. Dr. Brain Maloney has been using the fat transfer procedure in Atlanta for over a decade and is known for his natural-looking results. Lip augmentation with fat transfer has proven to be a safe and effective option with long-lasting results.
The lips are a delicate area of the face, and in order to ensure optimal results while avoiding common complications such as lip asymmetry or overfilling the lips, a.k.a. "duck lips." Any alterations to the lips require the experience and skillset of a talented plastic surgeon such as Dr.Brian Maloney.
Lip augmentation with fat transfer adds to the volume of the lips through the careful injection of fat harvested from a donor site on the patient's own body, e.g., abdomen, thighs, or buttocks. Because the injections are composed of the patient's own tissue, the risk of rejection is negligible and the chances of successful, permanent integration are very high. Another benefit of this technique is that it is highly customizable, which allows Dr. Maloney to select the precise amount of fat to inject in order to achieve the patient's aesthetic goals.
Hyaluronic Acid Fillers
Have you noticed that your lips have become thin and lack fullness? Are there thin lines surrounding your lips — what used to be "smoker's lips," even though you've never smoked? Or, have you never really had full lips and wish they could be plumper without any down time. Whether it's aging or just genetics, Dr. Brian Maloney may suggest you try one of the fillers specifically designed for the lip area.
Dr. Maloney is an accredited Allergen injector. He actually teaches other physicians how to inject Juvederm® fillers on the face and in and around the lips. When it comes to the lip area, he most often uses Juvederm Ultra XC® to fill the lips and Juvederm Volbella® to correct the lines around the mouth.
When you have your complimentary consultation with Dr. Maloney, he will provide you with the best options for your particular facial area.
Lip Lift
Some patients desire a more uplifted look to their upper lip. For these patients, Dr. Maloney will suggest a lip lift to create a Cupid's Bow for a more beautiful, defined lip. The procedure will elevate the position of the upper lip for a more normal balance. Dr. Maloney corrects this simple aesthetic problem by removing a small piece of excess skin underneath the nose. Recovery for a lip lift procedure is minimal and in about 2 to 4 days the patient will notice a refreshed, younger-looking appearance.
Watch this Video on the Lip Lift Procedure