What is the Juvederm VOLLURE® XC Injectable Filler?
Juvederm VOLLURE® XC (also known as Volift in Europe). is available at the Maloney Center located on Peachtree Dunwoody Dr. in Atlanta, Georgia.  Juvederm VOLLURE is made by Allergan, the makers of Botox®, Juvederm®, Juvederm Voluma® and Juvederm Volbella®. This newest facial filler is designed to fill deep wrinkles while lasting much longer than their other fillers. In some patients, it lasted 18 months or longer with optimal treatment. This is the longest lasting result shown in a clinical study. This development was very exciting to Dr. Maloney who has many patients who have asked him for a filler that would last longer.  He inject fillers into the nasolabial folds on a daily basis, and can now offer a filler that can provide results in the area for a longer time period. As with any cosmetic procedure, results can vary.
Juvederm VOLLURE® XC is the first and only FDA approved HA filler to correct moderate to severe facial wrinkles and folds in adults over the age of 21:
Made from a uniquely balanced gel
Long-Lasting Results
High Patient Satisfaction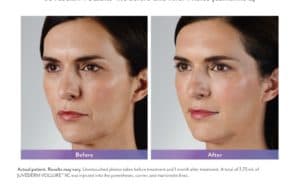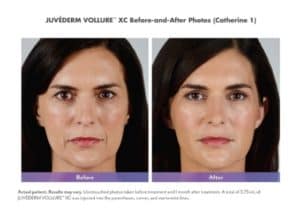 Juvéderm® Vollure® XC features the same Vycross technology that Juvéderm Voluma XC (the filler used to plump the cheek area) and Juvéderm® Volbella® XC (the filler used in lip augmentation) uses. However, Juvéderm® Vollure® XC is FDA-approved to use the Vycross technology in the nasolabial folds, which also happens to be the No. 1 dermal treatment area.
Another use for Vollure is to fill out depressions or indentations in the tear trough, which is the junction between the lower eyelid and upper cheek. Vollure injections gently cushion the area to give it a smooth and even appearance.
Why Choose Dr. Maloney for Vollure Treatment?
Dr. Brian Maloney is one of the first doctors to offer JUVEDERM VOLLURE® XC in the United States and in Atlanta. Dr. Brian Maloney, Allergan National Trainer & Top 100 Provider, will be using this filler to smooth deep wrinkles for a refreshed look, as well as gently restoring natural-looking contours in the lower face. Why is this exciting new product effective and long lasting? JUVÉDERM VOLLURE® XC  is formulated with Allergan's proprietary VYCROSS® technology, which blends different molecular weights of hyaluronic acid. This versatile formulation yields both a gel firmness and fluidity that results in JUVÉDERM VOLLURE® XC  lasting up to 18 months with optimal treatment!
Dr. Maloney is the only physician in Georgia (He is a national trainer for Allergan) who teaches other injectors the technique for injecting hyaluronic fillers, such as Juvederm Vollure and Volbella, under the eyes. This area is referred to as the tear trough.
Watch Dr. Brian Maloney inject a patient with Juvederm® Vollure® XC