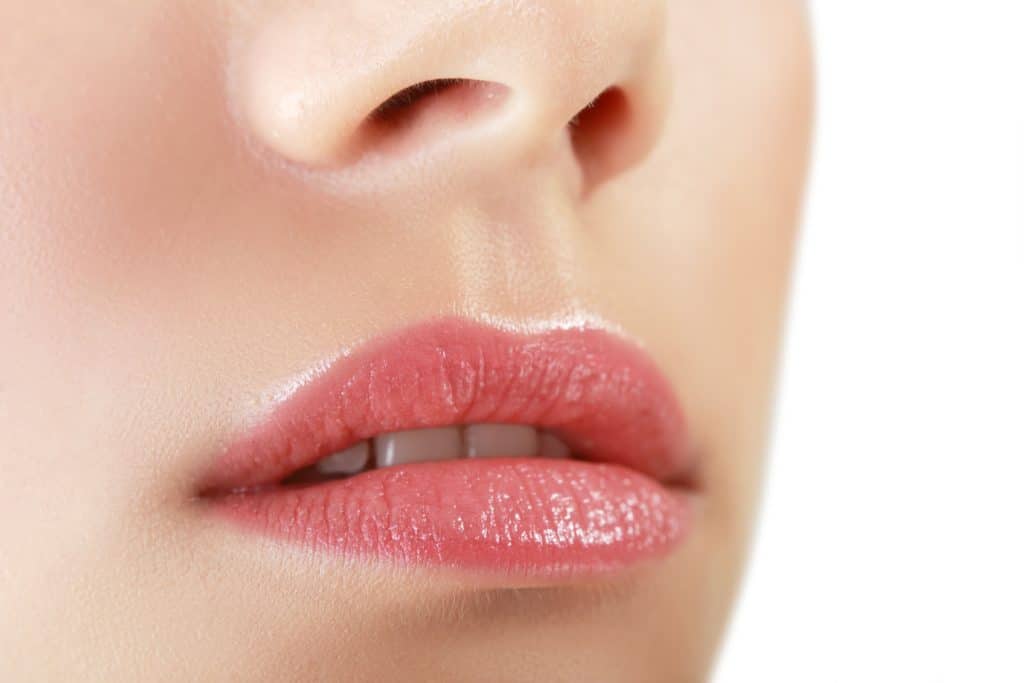 Natural looking Lip Enhancement is a cosmetic procedure used to improve the appearance of the lips through injections. The procedure can be performed on the upper or lower lip, or both at the same time. Lip Enhancement may offer temporary or permanent results depending on the method used. Most patients desiring larger, fuller lips are able to achieve their desired results with just one simple procedure. Dr. Brian Maloney at The Maloney Center for Facial Plastic Surgery performs Lip Enhancement for men and women throughout the Atlanta, Georgia area using safe, effective methods.
Fuller lips can be achieved through several different cosmetic techniques. Most options involve an injection of a Facial Filler to increase the size of the lips. Hyaluronic acid is a protein that our bodies make, making it a safe, natural filler.  It holds water to itself making it ideal for restoring lost volume to thin lips, giving them a natural, luscious look.  Dr. Maloney is careful to avoid unnatural overly filled lips by using conservative amounts of Juvéderm® or Restylane®.  Facial Fillers also have the advantage of being dissolvable if a patient wishes to have smaller lips.  Conservative Fat Transfer can also revitalize thin, aging lips. This is a more permanent solution. It may need to be repeated if there is too much absorption.
New Volbella for Fuller Lips
Juvederm Volbella is a new lip filler product from Allergan, the company behind Botox. Volbella is a dermal filler used specifically for the lip area to define the lips and for fine reducing wrinkles around the lips.
With aging, the muscle and soft tissue that give the lips fullness and definition around the vermilion border (the lip border) gradually atrophy or diminish. The effects of aging include general thinning of the lips as well as fine "smokers lines" radiating from the vermillion border. These lines can be the result of smoking, repetitive pursing of the lips as well as from sun exposure. These effects can be improved with the use of Volbella.  In some cases, a combination of these procedures is desirable for optimal results.
Dr. Brian Maloney and The Maloney Center for Facial Plastic Surgery have been selected by Allergan®, a leading manufacturer of Injectable Fillers, as a national training center of excellence. Allergan products, include Juvéderm, Botox Cosmetic, Voluma XC, Volbella, and Latisse. Patients can relax knowing that they are in the hands of an expert!
View before and after photographs.
About the Lip Enhancement Procedure
This procedure is done with topical or local anesthesia to ensure comfort. The filler is placed along the lip lines, with extra care taken to preserve a natural appearance. Injections are placed to enhance the upper lip, lower lip, and Cupid's bow. After injection, the area may be massaged to ensure a smooth result and ice may be applied for about 30 minutes. Many patients return to work or their regular activities immediately following the injections. You will see the results immediately. Hyaluronic acid fillers are often used, which provide results that last 3 to 6 months or longer. The most common side effects reported are bruising and swelling, which subsides within a few days.
Like in every other procedure, there are risks of side effects, such as itching, bleeding, bruising, swelling and redness—which usually subside a few hours after the treatment. After the procedure, it will be recommended that until your lips heal, avoiding the use of lip products is definitely a must. It's better to prevent than lament! The fullness effect of the lip injections can last up to 6 months. After that, the patient needs to return for more injections.
Types of Lip Enhancement Fillers
Lip lines can be improved with several techniques.
Botox® Cosmetic: has been used for mild lip lines. For deeper lines, Facial Fillers have been used. Laser Treatments and Dermabrasion also work well for deep lip lines.
Facial Fat Transfer: This is a non-surgical injection, also referred to as a Fat Transfer. The process involves removing fat through Liposuction from the patient's body, filtering this fat and then transferring it to the lips.
Injectable Fillers: This is a non-surgical injection that is made to the lips to create a fuller look. There are a variety of filler products available including those made of hyaluronic acid and calcium hydroxyapatite. These are marketed under various brand names and offer varying results.
PreJuvenation and Facial Filllers
An emerging trend called "PreJuvenation" indicates that young people between the ages of 20 and 30 are using Facial Fillers and Botox® Cosmetic as a preventative measure. Facial muscles that cause wrinkles can be trained to move less early on, thus stopping wrinkles before they start! Early maintenance can eliminate larger, more invasive procedures, and delay the need for cosmetic surgery later. It is important to know that Social Media makes younger patients increasingly aware of their lines and wrinkles, and thanks to celebrities and the internet, they know that there are ways to correct it and maintain their youthful skin.
Additional Procedures