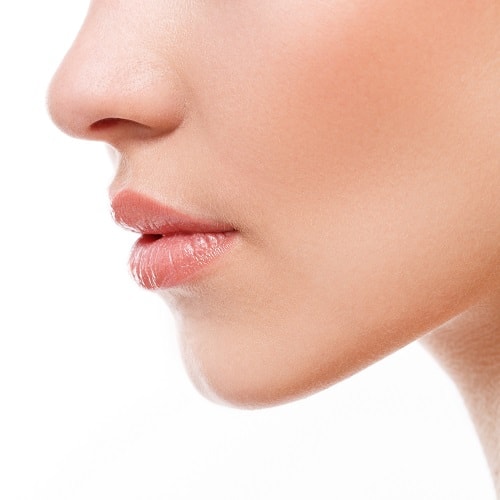 Did you know that you can improve the look of your nose without surgery? Rhinoplasty, or a "nose job," is the traditional method for reshaping the nose, a prominent facial feature that has a significant influence on your attractiveness and self-confidence. Injectable Facial Fillers have long been used to treat wrinkles, add volume to lips, and improve the tone and texture of the skin. These same fillers can also be used to give you a beautiful, well-proportioned nose.
Liquid Rhinoplasty uses a dermal filler like Juvéderm® or Restylane® to correct a variety of problems patients may find with their nose. Injections are often used to disguise a slight hump on the bridge of the nose, increase the height of the bridge, or reshape the tip. Being that Rhinoplasty surgery is both a popular and expensive treatment—frequently costing thousands of dollars—this non-invasive procedure offers a quick and relatively painless solution.
Dr. Brian Maloney and The Maloney Center for Facial Plastic Surgery have been selected by Allergan®, a leading manufacturer of Injectable Fillers, as a national training center of excellence. Allergan products, include Juvéderm, Botox Cosmetic, Voluma XC, Volbella, and Latisse. Patients can relax knowing that they are in the hands of an expert!
About the Procedure
Many of today's Injectable Facial Fillers are used to add volume to the skin. These same fillers are used for a Liquid Rhinoplasty by injecting the fillers into the different layers of the skin. A small needle is used for the treatment, and you see immediate results that can last for several months or years. Results are immediate and there is zero downtime needed for recovery.
Candidates for a Liquid Rhinoplasty
The best candidate for Liquid Rhinoplasty is someone who wants to add volume to the nose or correct hollow areas and depressions in the structure of the nose. Liquid Rhinoplasty is not an effective treatment for reducing the overall size of the nose or for correcting bumps or breathing issues. The best way to find out if Liquid Rhinoplasty is right for you is to meet with Dr. Maloney during a consultation appointment.
Benefits of a Liquid Rhinoplasty
Liquid Rhinoplasty is a minimally invasive treatment for some of the most common problems with the nose.
No surgery required
No scarring
Easy recovery and no downtime
Immediate, long-lasting results
Additional Skin Rejuvenation Procedures
---
The Maloney Center for Facial Plastic Surgery understands that your face is the first thing people notice about you. Dr. Maloney and his staff use their experience, compassion, and artistry to provide personalized care and state-of-the-art facial plastic surgery treatments and procedures to the residents of Atlanta, Sandy Springs, the surrounding communities in Georgia, and patients from around the world for optimal health, aesthetics, and patient satisfaction.