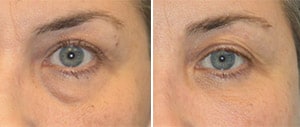 Your eyes are one of your most striking features, and if they appear tired, puffy or hollow, it can age your entire face. Puffy or hollow-looking eyes may be attributed to a problem with the tear trough, or the area where your lower eyelid meets your upper cheek. The natural anatomy in the tear trough area is very susceptible to the aging process, and age-related changes can lead to noticeable bulging over time.
If that is the case, Dr. Brian Maloney and the team at Maloney Center for Facial Plastic Surgery have the means to correct your tear trough deformity and restore a fresh, rejuvenated appearance to your face.
Dr. Maloney is the only physician in Georgia (He is a national trainer for Allergan) who teaches other injectors the technique for injecting hyaluronic fillers, such as Juvederm Vollure and Volbella, under the eyes.
What Causes Tear Trough Deformities?
A tear trough deformity is a depression or indentation in the area between the lower eyelid and cheek. The indentation can become visibly pronounced and cast dark shadows under the eyes.
Anyone can develop a tear trough deformity. The depression often forms as a result of natural age-related changes to the skin and fat. With age, the skin under the eyes gets thinner, fat in the lower eyelid falls out of its normal position and the muscles of the lower eyelid become loose. This combination of factors creates a noticeable demarcation between the lower eye area and upper cheek.
Age is not the only contributing factor to tear trough deformities. Younger individuals can develop tear trough deformities due to genetic factors. Sun exposure, stress and other lifestyle factors can also cause or contribute to the development of prominent tear trough deformities.
How Are Tear Trough Deformities Corrected?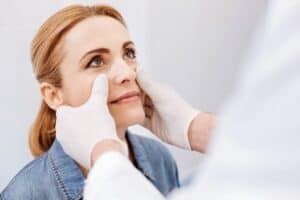 Dr. Maloney can correct tear trough deformities by injecting the area with a dermal filler such as Juvederm Vollure or Voluma. The filler subtly cushions or inflates the indentation to minimize the noticeable demarcation between the lower lid and cheek. Tear trough filler treatment requires a conservative and detail-driven approach, as overfilling the area can produce poor results that look unnatural.
Another treatment option is to harvest some of the patient's own unwanted fat and inject it into the tear trough indentation. Fat is removed from the patient's body and processed through a centrifuge to prepare it for injection. Like fillers, the transplanted fat provides the cushioning needed to soften the depression and restore a smooth quality to the under-eye area.
Benefits of Tear Trough Fillers
Tear trough correction with fillers and fat transfer is minimally invasive and provides lasting improvement.
Fillers can last six to nine months or more. Fat transfer can provide even longer lasting results, as long as the fat develops its own blood supply.
When performed by a qualified provider, the results look extremely natural and not overdone or artificial.
Little to no downtime is needed after treatment.
Candidates for Tear Trough Fillers
If you are bothered by your under-eye area, the best way to determine the right treatment for you is to meet with Dr. Maloney and our team for a consultation. In general, you may be a good candidate for tear trough correction with fillers or fat transfer if you are at least 21 years of age and have mild to moderate tear trough deformities. You should not be pregnant or nursing at the time of treatment.
To request a consultation with our team to discuss the available treatment options, please call or email the Maloney Center for Facial Plastic Surgery today.