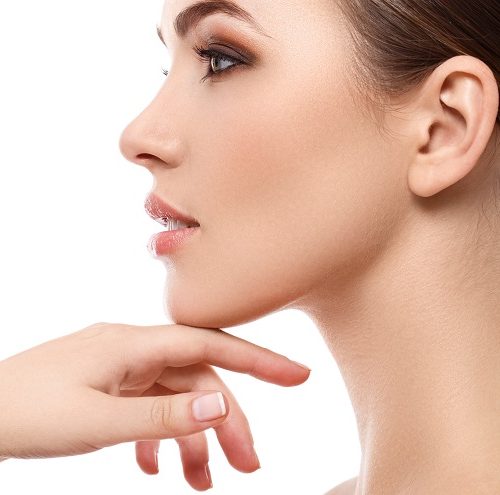 Sculptra® offers a unique way to achieve natural-looking rejuvenation of your skin because it works with your skin to make subtle improvements over time. People won't notice a sudden change, but instead, they will notice a gradual improvement over a period of several months. Collagen is a key component of healthy, smooth and firm skin. However, as we age, collagen levels in our body slowly depletes. This causes wrinkles and line to form on your face. Sculptra® works in the underlying layers of your skin where deep lines and wrinkles form. Sculptra® uses poly-L-Lactic Acid to replace lost collagen and stimulate your body's own collagen production. This reinforces the dermal structure of your face. Gradually, the collagen adds volume to make lines and wrinkles disappear and restore the youthful look of your face. The results last for at least two years.
View before and after photographs.
Benefits of Sculptra®
Sculptra® gradually improves the tone and texture of your skin by adding volume through collagen production. Sculptra® corrects:
Shallow to deep smile lines (folds between the nose and the mouth)
Marionette lines (lines framing your mouth)
Chin wrinkles
Hollow temples
Loss of the back of the jaw
Sculptra® also:
Stimulates the body to produce more collagen
Restores the underlying structure of the skin to more effectively fight the signs of aging
Uses a minimally invasive treatment with results lasting two years or longer (individual results vary)
Is slowly absorbed by the body in a natural way
What is Sculptra®?
Sculptra® is a minimally invasive cosmetic treatment that is injected into the deep layers of your skin with a small needle. If you are uncomfortable with needles, or extremely sensitive to the sensation of injections, Dr. Maloney can use a topical anesthetic to numb the treatment area. Treatment sessions takes less than 15 minutes. You may experience rare mild redness, swelling, and bruising at the injection site for the first 24 hours after treatment. While downtime following treatment is minimal, Dr. Maloney will provide you with easy to follow aftercare instructions to ensure best results and maximum comfort. For example, you may receive guidelines on avoiding excessive sun exposure immediately following a session. For optimal results, Dr. Maloney recommends several treatment sessions over the course of a few months. This supports a natural looking transformation of your appearance that is smooth and youthful. You will begin to see progressively noticeable changes in your skin over time. If you have any questions or concerns in between treatment sessions, you can always call Dr. Maloney for assistance.
Candidates for Sculptra®
Sculptra® may be the right treatment for you if you want long-lasting, gradual improvements in your fight against aging. The best way to find out if Sculptra® is right for you is to meet with Dr. Maloney to discuss your cosmetic goals. During your consultation, Dr. Maloney will review your medical history to ensure Sculptra® is the best option for you. Your consultation is also a time for you to ask Dr. Maloney any questions you may have about Sculptra® or about the procedure.
Additional Skin Rejuvenation Procedures
---
The Maloney Center for Facial Plastic Surgery understands that the way you look affects the way you feel about yourself. Dr. Maloney and his staff use their expertise, compassion, and skill to provide individualized care and innovative facial plastic surgery techniques to the residents of the metropolitan Atlanta area. The Maloney Center provides patients from all around the world with the best treatments and latest advances in facial plastic surgery.