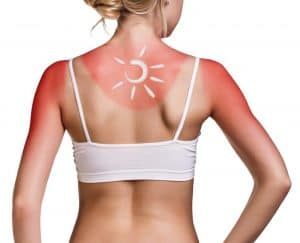 The sun is probably the greatest factor that accelerates the aging process resulting in sun spots, thick dull skin and skin cancers. The environment has changed resulting in a more dangerous sun for our skin. Forty years ago, it was possible to be outside all day and not get sunburned. Now, just a 15 minute exposure to the sun can result in a burn for some people. For this reason, knowing how to safely enjoy the sun is very important.
Great advances have been made in sun protection.
Sunscreen/Sunblock: The cornerstone of sun protection rests with the daily use of a sunscreen or sunblock. Historically, the sun's different types of rays were divided into good rays and bad rays. Today, all of the sun's rays are regarded as bad. UVA rays are aging rays. UVB rays are burning rays.
Sunscreens are chemicals that absorb the sun's UVA rays to keep them from damaging the deeper layers of one's skin.
Sunblocks physically prevent the sun's UVB rays from hitting the skin at all. The old zinc oxides were the original sunblocks. For many, they would block the pores in the skin and cause acne breakouts. The newer formulas consist of titanium dioxide and are much better tolerated by the skin. The brand, Blue Lizard, is a great mineral-based sun protection product that has earned top scores for its powerful sun protection using cleaner and safer ingredients.
Helioplex: For full sun protection, I recommend that you choose a broad-spectrum formulated sunscreen that will protect against all of the sun's damaging rays. Helioplex is a great broad spectrum chemical first used in Australia. It is made by Neutrogena. The Neutrogena Helioplex Broad-Spectrum products provide superior protection and are stable in the sun, allowing for optimal protection while you wear them.
Sun protection factor (SPF) is a measure of how well a sunscreen will protect skin from UVB rays, or the sun's rays that cause sunburn, skin damage and can contribute to skin cancer. For example, a SPF 40 should allow one to stay out in the sun 40 times longer than if one has no nothing on at all. Of course, this varies depending on your activity – running, swimming, sweating, etc. For my patients who are on a skin bleaching program, I recommend a broad-spectrum SPF of 80 -100.
Ultraviolet Protective Factor (UPF) Clothing offers important protection from the sun. An average shirt provides a SPF of 4; if it gets wet, it provides less than that. UPF indicates how much of the sun's radiation is absorbed. Many tennis, golf, and swimming clothes are treated with agents that provide up to 50 UPF. A fabric rating of UPF 50 will allow only 1/50th of the sun's rays to pass through. If you have a favorite shirt, RIT's Sun Guard laundry aid "transforms everyday clothing into Sun-Protective Gear" increasing your clothing's UPF rating. Additionally, broad rim hats help to protect the ears, face, and neck.
Heliocare is a daily oral supplement derived from a plant extract from the Polypodium leucotomos fern. This special Fernblock PLE technology has been shown to help the skin repair sun damage. In combination with topical lightening agents, it can aid in softening unwanted facial spots
Sun Glasses The leading cause of cataract formation are the ultraviolet rays from the sun. Good quality broad-spectrum sunglasses will help to protect the eyes and hopefully delay cataracts.
There is no reason to the avoid the sun. We need to enjoy it wisely.