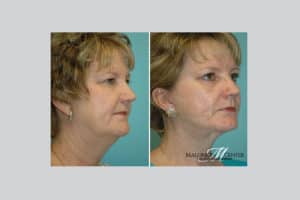 Doctors have performed the procedure known as facial fat transfer, or fat grafting, for decades. In recent years scientific experimentation has advanced the procedure to new highs. Many experts agree that fat transfer produces the most natural, long-lasting results when it comes to soft-tissue augmentation. The good news is that fat transfer is safe and produces amazing results. It may be just what you need to fill in hollowness around the eyes, thin lips, or nasolabial folds, and it's perfect for adding volume to the cheekbones or bringing symmetry to the face.
Seek an expert for this procedure
When it comes to fat transfer, it's important to seek a surgeon with specialized training, patience, attention to detail, and a properly-equipped surgical center. Dr. Brian Maloney, the founder of the Maloney Center for Facial Plastic Surgery, is a Double Board Certified Facial Plastic and Reconstructive Surgeon who has authored more than 80 chapters and articles on facial plastic & reconstructive surgery topics for textbooks and medical journals. He is a leader in the industry who has also built a state-of-the art surgical center. You can trust Dr. Maloney's highly developed surgical skills and leading-edge fat transfer-techniques to give you the beautiful, youthful look you desire.
Candidates for facial fat transfer
The best way to determine if you are a good candidate for facial fat transfer is to meet with Dr. Maloney. During your consultation appointment, Dr. Maloney will discuss your cosmetic goals and recommend the best procedures for your needs. In general, facial fat transfers are recommended for the upper and lower eyelid area to soften hollowness and the deep-set look at the temple area, corner of mouth, jaw line, cheek creases, and thin lips.
Traditional surgical rejuvenation procedures such as Face Lifts and Blepharoplasty fail to add volume, often leaving patients with a tighter look but not a younger look. Facial Fat Transfer, or autologous fat transplantation, in conjunction with these procedures, can provide your face with a younger-looking, fresh contour.
Patients who undergo fat transfer should be healthy. Those who take blood thinners or daily aspirin therapy should consult with Dr. Maloney about the advisability of undergoing fat transfer.
Vast experience combined with great technique
Dr. Brian Maloney uses a few mm of pressure to gently harvest fat without exposing it to air. The fat is centrifuged–spun around quickly– and separates into layers. The intact fat is removed and used to fill the desired areas of the face. Because of the newer techniques in fat preparation, there is less absorption by the body. Dr. Maloney increases long-term success of his procedures by placing the fat in the tissues in a micro-droplet fashion.
The type of anesthesia used for the procedure will depend on the extent of the area to be treated. General and local sedation can be used for fat transfer. During your consultation, Dr. Maloney will discuss which option is best for you.
What to expect after fat transfer
Dr. Maloney's trained office staff will provide information and support for those recovering from the fat transfer procedure. Post-surgery Dr. Maloney recommends applying ice to the affected area, elevating the head, and avoiding strenuous activity.
The first week after surgery, patients experience puffiness and swelling. There might be some bruising. The second week is a recovery week. By the end of that week, most traces of the procedure are faded and the skin looks almost normal. The results of the transfer are evident, and patients see the positive outcome of the procedure.
Lasting results
Fat injections are a good option for natural-looking face enhancement. If performed carefully, they are long-lasting. The surgeon must make sure the fat cells can get their own blood supply in order to thrive. Dr. Maloney is trained in harvesting and placing the cells carefully to ensure their survival. Transplanted cells that survive and thrive enhance the treated area for years. Natural aging still occurs, however; and weight fluctuations will affect the volume of the fat transfer. Some patients elect to have fat transfer repeated or other areas treated as time progresses. Dr. Maloney's patients are pleased with their results. The number of individuals seeking fat transfer to enhance their appearance is on the rise. Contact Dr. Maloney's office to set up a consultation.
© 2017 Maloney Center for Facial Plastic Surgery. All rights reserved.