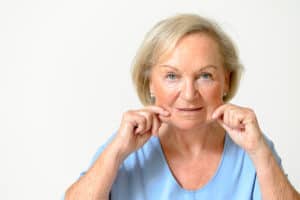 Signs of Aging
Excess fat in
If you are beginning to see sagging skin or loss of definition in the lower part of the jaw or face, it might be time to consider a mini facelift or s-lift. Deep wrinkles or frown lines around the mouth and pronounced jowls can keep you from living your best life professionally and personally. A mini facelift can benefit a patient who is not ready for a full facelift procedure. It's an outpatient procedure that is less invasive and involves less downtime.
S-Lift: another name for the mini facelift
The s-lift also referred to as a mini facelift, is a popular alternative to the traditional full facelift. The "s-lift" creates an overall lift to the lower third of a patient's face and cheeks. With the s-lift, the incisions are smaller and less invasive with fewer complications and a faster recovery period. A good candidate for this procedure is a person who has mild to moderate sagging in the cheeks, neck, or chins and wants to obtain a more youthful, natural appearance. Check out our before and after photos and testimonials.
Make an appointment for a consultation
During your initial visit, Dr. Maloney will carefully examine you and discuss your concerns and goals. It's important to identify the procedure that best suits your needs. This consultation will allow Dr. Maloney to evaluate your skin type, basic bone structure, ethnic background and other considerations before making recommendations. He will patiently and fully answer any questions you may have about the procedure.
It's a mini miracle
The mini facelift, which is a refined version of the full facelift, has several benefits:
Tightens & lifts sagging skin
Reduces the jowls and refines the jawline
Gives the lower face natural, youthful contours
Facial rejuvenation in the form of a mini facelift can combat early signs of aging without a lot of downtime or discomfort. It's an affordable, effective outpatient surgery that can be performed under local anesthesia.
What to expect after surgery
After surgery, loose dressings are applied and the doctor gives you specific instructions for rest and post-op care. Then you return to the comfort of home to recover. Any pain is managed by over-the-counter medication.
As with any type of surgery, there are risks. However, refraining from smoking and carefully following the pre- and post-procedure instructions reduces the likelihood of these complications. Discoloration and bruising is a normal part of the recovery process and generally fades within seven days.
Recovery time for a mini-facelift usually varies between a few days to two weeks. Follow-up appointments allow the doctor to gauge the healing process. Strenuous activity should be avoided for up to a month following the procedure. The friendly, efficient staff at Dr. Brian Maloney's office will be available for post-surgery questions and guidance as needed.
Patient Care
Dr. Brian Maloney makes the mini facelift an individualized experience for each patient. This quick and effective surgery can produce a dramatic change in the way you look and feel. Every time you look in the mirror, your confidence and spirits will soar. You will feel energized by the renewed youthful appearance you see.
If you are ready to find out more about a mini facelift, call Dr. Brian Maloney, a surgeon with years of specialized experience in the field of plastic surgery. Patients from all over north Georgia including Rome, Cumming, Gainesville, Roswell, Alpharetta, Sandy Springs, and Johns Creek trust him with their aesthetic needs.
© 2017 Maloney Center for Facial Plastic Surgery Center. All rights reserved.