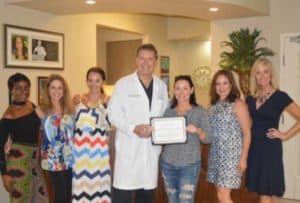 Botox® for a Year!
If you have been in the Maloney Center office, located in Atlanta, Georgia, over the past year, you probably have noticed our huge bottle filled with Botox vials. You possibly even entered our contest which was to guess the correct number of bottles. The grand prize for a "Year's Worth of Botox™".
We have a winner! She guessed 1900 Botox vials and there were 1901 in our jar. Obviously, our winner is a happy lady! No wrinkles for a year!
Consolations go out to all those who entered and didn't win! However, Dr. Maloney, who is a certified Allergan/Botox injector can still erase your wrinkles and has helped women and men all over the Atlanta metro area and beyond to improve signs of facial aging through non-surgical procedures using injectables.
Vycross™ Technology
Dr. Brian Maloney has the best reputation in Atlanta for his expertise in Botox™ injection methods and other facial fillers such as Juvederm Ultra® XC, Voluma® XC, Volbella®, and Vollure®. When he uses  a combination of these facial fillers along with Botox, based on the specific needs of the patients, he is using Vycross® Technology developed by Allergen, the makers of these products. With Vycross™ technology, Dr. Maloney can treat different areas of the face resulting in what many call a "Liquid Facelift" which can take 10 years or more off your facial appearance. To read more about Vycross™ Technology click here+
Botox & Juvederm™ Family of Fillers
Botox® – Erase severe  frown lines , crow's feet, and forehead wrinkles.
Juvederm Voluma® XC – Designed to add volume beneath the skin's surface to lift and contour the cheek area.
Juvederm Vollure® XC – Softens moderate to severe facial lines and wrinkles to create a smoother appearance.
Juvederm Volbella® XC – Designed to add subtle volume to the lips and smooth the appearance of vertical lip lines.
Juvederm Ultra® XC – Adds more fullness and plumps thin lips.
Botox™ and Juvederm® products have a proven record of safety to treat facial areas such as eyes, cheeks, nasiolabial folds, lips, areas around the mouth and chin. If you are ready to look younger with just a short office visit, schedule your complimentary appointment with Dr. Brian Maloney at the Maloney Center located at 6111 Peachtree Dunwoody Road, Atlanta, Georgia. Call 770-804-0007 or fill out our contact form+
For more about Allergan and Botox®