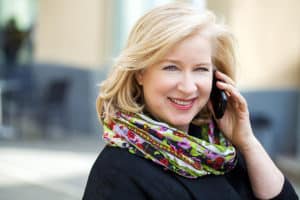 Wrinkle relief
For many, facial wrinkles and folds are unfortunate facts of life–difficult to prevent and often impossible to avoid. Because society prizes smooth, unblemished skin, many who suffer from wrinkles or folds want to get rid of them. There are about as many creams, balms, and lotions that purport to remove wrinkles as there are days in a year, but Dr. Brian Maloney now offers a treatment to top all treatments: Vollure XC, an injectable dermal filler, has shown astonishingly powerful results, all without invasive surgery or repeated visits.
The power of Vollure
Designed for adults over 21, the use of Vollure XC for patients in clinical trials demonstrated its astonishing benefits. Almost 2/3 of those who participated in the trials reported improvement in moderate-to-severe deep wrinkles and skin folds. What's more, after the initial treatment, these patients reported that the beneficial effects of the injection lasted for more than a year–even up to 18 months in some cases. The first injectable treatment of its kind, Vollure XC attacks deep wrinkles and folds around the nose and on the cheeks in a way few other treatments can manage, all while avoiding the requirement for invasive surgery or repeated procedures.
How it works
The process for a treatment of Vollure XC is very straightforward. As a dermal filler treatment, Vollure XC is an injectable, meaning that the treatment consists primarily of an injection of the substance into the problem area. There are occasionally mild side effects like itching or swelling in the area; but after a week or less, these effects subside. After this, the treatment is completed although a follow-up appointment can be scheduled to touch up any areas where you may want to have additional treatment.
Questions?
Dr. Brian Maloney and the team at the Maloney Center for Facial Plastic Surgery are excited to share with you more details and information about Vollure XC and other facial plastic surgery procedures and treatments. Your face is the most important way you show the world who you are; why not talk to Dr. Maloney today to find out how you can give yourself the face you've always wanted? The Maloney Center for Facial Plastic Surgery, a plastic surgery center and medical spa, is located in Atlanta, and serves patients from the entire greater Atlanta area, including Buckhead, Dunwoody, Sandy Springs, Marietta, Roswell, Alpharetta, Milton, and beyond. Call today or contact us to schedule an appointment. We are so proud of what we can offer you that we would like a chance to schedule a complimentary appointment; click here to fill out our form, and we'll set up an appointment for you.
This article is not, nor is it intended to be, medical or healthcare advice. If you have a medical question, please contact Dr. Brian Maloney or another healthcare professional.
© 2017 Maloney Center for Facial Plastic Surgery. All rights reserved.