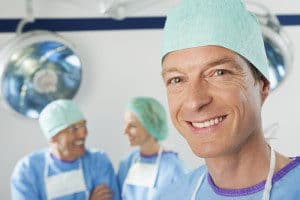 As a facial plastic surgeon in Atlanta, I encounter many people considering reconstructive surgery for a variety of reasons. Some people are born with birth defects. Some have sustained injuries or
accidents.
Many people with these conditions experience feelings of low self-esteem or a lack of confidence as a result of their physical appearance.
These conditions also create physical health challenges for individuals such as difficulty breathing, eating and speaking.
Having treated many people in situations like this, I understand facial reconstructive surgery is a major decision. Therefore, I want to you to know what to look for in a reconstructive surgeon in Georgia.
Education and Experience Critical for Reconstructive Surgeon
Comprehensive Training
Comprehensive education and training is a very important factor in considering a reconstructive surgeon. Look for surgeons who are board certified. Board certification signals that a surgeon has:
Completed college and medical school at an accredited academic institution
Completed extensive residencies and internships
Met rigorous training standards
Subscribes to a code of ethics
I am certified by both the American Academy of Facial Plastic and Reconstructive Surgery and the American Board of Otolaryngology. Otolaryngology focuses on the treatment of diseases and disorders of the ear, nose and throat. Otolaryngology also covers issues with neck and face.
Having these credentials verifies to patients that I can effectively treat a broad range of facial reconstruction needs using specialized expertise and advanced surgical techniques.
Extensive Experience
There are thousands of plastic surgeons in the United States with varying levels of experience. The more experience a surgeon has, the better equipped they are to treat a variety of issues using the most appropriate techniques.
I have been practicing facial plastic surgery and reconstruction for more than twenty years. In this time, I have served hundreds of patients from all over the greater Atlanta area.
What Should I Expect from a Reconstructive Surgeon in Georgia?
Thorough Consultation
A highly qualified reconstructive surgeon will make themselves available for a consultation with you before any decisions are made or procedures are scheduled. A good consultation includes a review of your medical history so you can alert the surgeon to any allergies or complications from any previous procedures.
During consultations with my patients, I always go over the steps involved in a treatment so they know what to expect. I also set aside time for patients to ask me whatever questions they want so any fears and concerns they may have can be addressed.
Individualized Approach
No two reconstructive surgery cases are exactly alike. While a reconstructive surgeon can recommend the most beneficial treatment options based on their training and experience, they should also consider your individual needs.
During a consultation, I always ask my patients about their personal goals for their reconstructive surgery. Do they need to address a pressing health issue? Do they want to achieve a particular cosmetic look? Do they want to feel better about their physical appearance? Answering questions like these helps me identify the best treatment choices for their specific situation.
Finding the right reconstructive surgeon
is an important part of your health care. Look for a board certified reconstructive surgeon with the best combination of education and experience, who offers a detailed consultation and who takes an individualized approach to providing treatment.