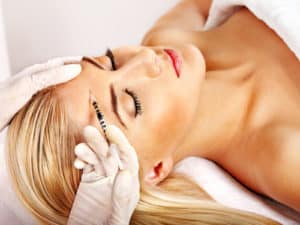 Many people in Atlanta choose Botox® as a treatment for cosmetic improvement and skin rejuvenation. Botox® is a convenient, relatively painless treatment for lines and wrinkles that form on the face.
While every patient's case is different, Botox® sessions generally only take 15 minutes. The course of treatment can last from three to four months, or as long as nine months depending on the individual. Botox® treatments require virtually no downtime. Patients typically resume normal activities immediately after a session.
Still, some people are naturally hesitant to give this treatment a try because they are concerned about discomfort and potential Botox® side effects. Knowing more about Botox® may help you to make a decision about using this treatment. As a National Trainer for Allergan, the company that makes Botox, Dr. Maloney has found that many barriers to patients trying Botox for the first time are based on false myths and urban legends. When patients understand the truth about Botox, they are more eager to have the treatment.
How Botox® Works
Botox® is a minimally invasive procedure used to remedy lines and wrinkles that form on the forehead, nose, mouth and lips as a result of facial muscle contractions. In the face, these muscles insert directly into the skin. When the muscles contract, the supporting structures in the skin flex and eventually break causing wrinkles.
A fine needle is used to inject Botox® (botulinum toxin) into facial muscles where those lines and wrinkles have formed. Botox® relaxes the muscle and gives the skin a chance to heal. Over time, lines and wrinkles fade.
Topical or local anesthesia can be applied to reduce any discomfort.
Botox® Side Effects
Botox® side effects are minimal, rare and usually temporary.
Some potential side effects include mild bruising, swelling or bleeding at the injection site.
Dr. Maloney is a National Botox Trainer and Emphasizes Art of Botox in Atlanta
As an experienced, double board-certified facial plastic surgeon and a National Trainer for Botox, Dr. Maloney customizes a treatment plan for each patient in order to maximize the benefits, prevent complications and minimize any side effects.
A well-trained physician will also provide you with a thorough consultation that reviews your medical history and discusses possible treatment options.
One of the best ways to reduce any potential after effects of Botox® treatment is to see a skilled and experienced, board certified, facial plastic surgeon like Dr. Brian Maloney.
Dr. Maloney is a member of Allergan's National Teaching Faculty with clinical expertise in providing patients with safe and effective Botox® treatment in Atlanta. As a certified instructor, Dr. Maloney has trained practitioners worldwide on both the basic application and advanced techniques of Botox® treatment.
A consultation with Dr. Maloney can help you evaluate whether Botox® is the right treatment for you, or if another option might better suit your cosmetic needs.
Common Treatment Areas for Botox
Common treatment areas for Botox include frown lines, horizontal forehead lines, crow's feet or "smile" lines at the corner of the eyes, and "bunny" lines along the side of the nose. Additionally, down-turning corners of the mouth, lipstick lines, bands in the front of the neck, horizontal lines in the neck, and lines in the décolleté (chest), are also treated with Botox. Botox may also be used to rest the skin following an incision or laceration and to treat migraines as well as excessive sweating of the forehead, underarms, hands or feet.