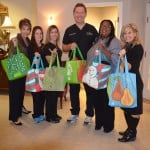 The Maloney Center Hosts Charity Event in Atlanta to benefit Atlanta's Center for Self Sufficiency.
BRING A BAG TO BLESS SOMEONE, AND WE WILL THANK YOU WITH INJECTABLE SAVINGS.
As we gather with friends and family to celebrate our blessings this November, join Dr. Maloney and his staff as we provide much needed supplies to the Atlanta Center for Self Sufficiency. ACSS is committed to breaking the cycle of homelessness in metro Atlanta by empowering homeless individuals to achieve economic self-sufficiency. (One day only, limited appointments)
STEP ONE: Schedule your appointment at 770.804.0007 for Botox, Juvederm, Voluma or Sculptra on Tuesday, November 11th. Book early this ONE DAY ONLY event fills fast.
Instructions:
STEP TWO: Support ACSS by purchasing a recyclable shopping bag (like those located at the front of the bagging areas of grocery stores)
STEP THREE: PURCHASE (new items only please) at least  ONE ITEM FROM EACH CATEGORY and fill your shopping bag with the goodies.
STEP FOUR: BRING IN YOUR BAGS and enjoy gourmet coffee and, for each bag that you bring in, you will qualify for $100 off of one syringe of Botox, Juvederm, Sculptra, or Voluma.   All syringes must be administered that day.
FILL YOUR BAG WITH AT LEAST ONE ITEM FROM EACH CATEGORY LISTED:
Clothing/Accessories                    Hygiene                                           Miscellaneous
Underwear (Men's & Women's           Lotion                                                  Chapstick
Socks (Men's & Women's)                  Toothbrush/Toothpaste                       Gift Cards
Bras                                                    Feminine Products                              Umbrellas
Thermal Underwear                            Razors/Shaving Cream                       Pens/Pencils
Ties                                                                Towels/ Washclothes                   Address Books
Handkerchiefs                                           Soap                                                     Books
Belts                                                              Wave Caps                                         Journals
Pantyhose                                                  Hair Gel/Grease                              Bottled Water
Gloves                                                          Brushes/Combs                              Snacks
Scarves                                                        Deodorant                                         Blankets
Hats Wallets                                               Shampoo/Conditioner                Detergent
Laundry Bags
Phone Cards