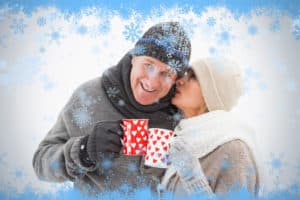 As winter begins, so do the heavy clothes, scarfs, turtlenecks and sweaters. 'Tis the season to bundle up which makes it also the best time to undergo a cosmetic procedure. Cold weather allows patients to hide the recovery effects of plastic surgery with clothing and accessories. Sun exposure is minimal, and days off for the holidays means more time to recover at home. It's the perfect time for a relaxing recovery from any cosmetic procedure such as face lift, mini face, lift, neck lift, nose reshaping, eyelift, forehead lift, as well as fractional laser skin resurfacing. In this article we are going to focus on neck lift both surgical and non-surgical.
Neck Lift
Visible signs of aging along the neck and jawline can cause a person to look older, tired, and worn out. Neck lift surgery can reduce signs of aging caused by time, heredity, and gravity. A "turkey waddle" and double chin can be diminished during neck lift surgery to provide a beautifully shaped neckline. Neck lift surgery can help a patient look nearly 10 years younger by removing hanging skin and excess fat from the neck and jowls. Often it accompanies face lift surgery for a more comprehensive facial rejuvenation.
Dr. Brian Maloney can explain all of your options at your consultation and can show you your probable outcome by using computer imaging. Neck lift surgery is performed by Dr. Maloney using local anesthesia. Loose skin if pulled back and removed; neck muscles are often tightened as well. The incisions are hidden inconspicuously behind the ears. During your recovery period, there may be a little swelling or bruising so a scarf, turtleneck top or sweater will cover up any signs of your procedure.
Neck Liposuction
Liposuction is an ideal option for immediately improving a double chin that stems primarily from an isolated pocket of fat with mild to minimal skin excess. Younger patients with good skin elasticity are best candidates for neck liposuction. If you have loose skin, the liposuction will remove the fat and make the skin noticeably loser. In this case, neck liposuction along with a neck lift or mini face lift would be advisable.
During a neck or chin liposuction procedure, Dr. Brian Maloney removes fat using a small tube (called a cannula) and a suction device. He typically has the ability to permanently remove fat cells which allows the neck to be sculpted to achieve an attractive contour. The procedure takes about an hour and most patients are able to return to normal activities within a few days of the procedure.
Non-Surgical Neck Lift – Kybella™
If you are looking for a non-surgical way to have a neck lift, Kybella™ may be the perfect option for you. Kybella™ is appropriate for any healthy adult who wishes to eliminate submental fat permanently and whose skin is still fairly elastic. If you have a sagging, "turkey" neck in addition to a double chin, combination therapy with lasers or ThermiRF to tighten the skin may be in order.
Kybella™ must be applied by an extremely skillful doctor like Dr. Brian Maloney, who has been specially trained in the specific injection process. Kybella™ usually requires a series of 2 to 3 treatments spaced a month apart. Each treatment takes about 15 minutes.
As for the recovery itself, there is an inflammatory component immediately after the injection. Usually there is some swelling and tenderness for a few days, because the body is cleaning up all the cellular debris and creating a bit of contraction in the skin. Since it is not an invasive procedure, the recovery period tends to be faster than from neck lift or neck liposuction. Perfect time for a scarf or turtleneck!
Dr. Brian Maloney, at Maloney Center in Atlanta, Georgia says his Kybella™ patients are overwhelmingly positive. They are very happy with the no hassle, little downtime and dramatic results. Dr. Maloney is attracting patients wanting Kybella™ treatment from all over the Atlanta Metro area including Sandy Springs, Alpharetta, Johns Creek, Marietta, and Brookhaven.