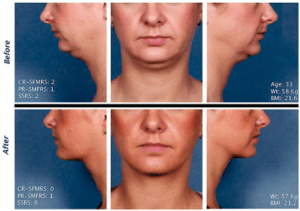 Dr. Brian P. Maloney Will Also Train Others on Use of FDA-Approved Kybella™
ATLANTA: The Maloney Center for Facial Plastic Surgery is proud to announce that it is one of the first in Atlanta to offer Kybella™, a non-surgical treatment for submental fullness recently approved by the FDA. Additionally, Dr. Brian P. Maloney, an internationally recognized national trainer, has been selected to instruct other medical practitioners on the use of Kybella™.
Kybella™ is the first and only FDA-approved treatment to reduce submental fullness without surgery. Submental fullness is an aesthetic condition affecting men and women who have excess fat in their chin profile. Submental fullness is also known as "double chin," a condition that causes an older, heavier looking face and can affect patients' emotional well-being.
Kybella™, also known as deoxycholic acid or ATX-101, is a minimally invasive treatment that is administered by injection into fat under the chin. Kybella™ shapes and improves the appearance of submental fullness. Patients typically require two to six treatments which are administered in sessions lasting fifteen to twenty minutes.
Kythera Biopharmaceuticals, manufacturer of Kybella™, has initiated a training program to educate doctors to safely administer Kybella™. Dr. Maloney has been asked to join the program's physician faculty and will begin training other physicians in late summer 2015.
Treatment with Kybella™ is tailored to each patient's aesthetic goals for his/her chin profile. This aligns with Dr. Maloney's patient-centered approach that accommodates each individual's unique treatment needs and goals. Dr. Maloney is pleased to add Kybella™ to the array of facial plastic surgery choices available to patients at the Maloney Center.
For more information, contact the Maloney Center for Facial Plastic Surgery at 770-804-0007.
ABOUT THE MALONEY CENTER FOR FACIAL PLASTIC SURGERY
Headquartered in Atlanta, Georgia, The Maloney Center for Facial Plastic Surgery is an internationally renowned destination for excellence in facial plastic surgery and custom, individualized care. Dr. Maloney is an award-winning, double board certified facial plastic and reconstructive surgeon. He is a National Trainer for Allergan, makers of Botox Cosmetic™, Juvederm XC™, Latisse ™ and Juvederm Voluma XC™. He is a fellow of the American College of Surgeons and a Diplomat of the National Board of Medical Examiners. He is a National Trainer for Dermapen and The Maloney Center is honored to be certified as the First Dermapen Center of Excellence in the state of Georgia. Dr. Maloney's artistry and specialized approach has resulted in regular features on MSNBC.com, ABC News, Discovery Health, TLC, and CNN Headline News. The Maloney Center for Facial Plastic Surgery is located at 6111 Peachtree Dunwoody Rd., and can be reached at 770.804.0007, or online at www.MaloneyCenter.com.