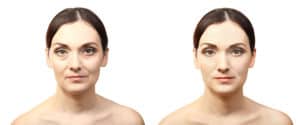 Popular Cosmetic Surgery
Mirror, Mirror, on the wall. How can I get the fairest eyes of all? Maybe surgery is the answer. Don't wait to rejuvenate your eyes. It can make a big impact on how you look and feel. Heredity, age, gravity, and sunlight can cause the tissue around the eyes to become droopy and puffy. According to Medscape, eyelid surgery is the third most common cosmetic surgical procedure. If the lower lid area is of particular concern, make an appointment with Dr. Brian Maloney for a consultation. He may recommend an outpatient procedure called a lower lid blepharoplasty. Check out the Eyelid Surgery Gallery of Before and After Photos.
Conditions Addressed by Lower Lid Blepharoplasty
Bags around the lower eyelids and under-eye area
Droopy lower eyelids
Excess skin around the lower eye lids
Fine lines
Pre-Op History
In order to make sure a person is right for lower lid blepharoplasty, Dr. Brian Maloney conducts a careful physical examination to address each patient's physical condition and expectations for the outcome of surgery. A medical history including details on chronic medical conditions and eye conditions is taken. Any ophthalmological conditions, especially "dry eye" and allergies must be considered. Sometimes outside specialists need to be consulted when it comes to making a decision about whether or not to have surgery. As with all facial plastic surgery, good health and realistic expectations are prerequisites.
Unique Visual Tool
Dr. Maloney's uses pre-op photos to generate computer images that allow patients to see their own image with the "after"- surgery result, and he encourages patients to ask as many questions as they need to about the procedure. In order for the patient to make an informed decision, he or she must have realistic expectations and a clear understanding of the surgery. At the consultation, Dr. Maloney may suggest additional surgery such as a simultaneous forehead lift to correct a drooping brow and smooth the forehead or skin resurfacing to remove the fine-line wrinkling in the eye area to increase the benefit of the surgery.
Say Hello to Smooth
The main goal of the lower lid surgery is to remove excess fat and skin then tighten and smooth the underlying muscles. Dr. Maloney makes the incision in an inconspicuous site along the lash line and smile creases of the lower lid. The incision is closed with fine, self-dissolving sutures which leave minimal to no scarring. Patients with a deep groove under the eye may have eyelid fat transferred to soften this depression. The result of this surgery is very natural, and the patient gets a more refreshed and youthful look. Although the skin continues to age, the results are long-lasting.
Post Surgery
Immediately after the surgery, Dr. Maloney recommends iced compresses be applied to the eyes. If the eyes feel dry, an ointment may be used. A certain degree of swelling and bruising is normal. Cold compresses, as well as head elevation when lying down, will enhance healing and relieve discomfort. Dr. Maloney will prescribe medication for any slight discomfort.
For a week following Blepharoplasty, the eyes ay feel sticky, dry, and itchy. You will clean the eye area and use eye drops if recommended. Dr. Maloney will also list activities and environments to avoid in the weeks immediately following surgery. Dr. Maloney and his professional staff will be ready to help throughout the recovery process.
Rely on the Professionals to Help You Look Your Best
When it comes to facial plastic surgery and other nonsurgical cosmetic and aesthetic procedures, the Maloney Center for Facial Plastic Surgery is a name you can trust. Dr. Brian Maloney has dedicated his life to studying, learning, and perfecting his surgical skills in order to give his patients the beautiful, natural results they desire. You will not find this incredible combination of artistry and customer care anywhere.
© 2017 Maloney Center for Facial Plastic Surgery. All rights reserved.