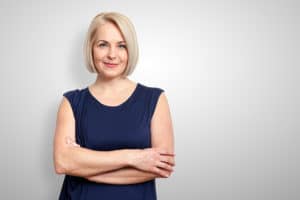 Consult Dr. Maloney to See If You Are a Candidate
If you look in the mirror and see wrinkles, dark circles, and bags instead of your once-beautiful eyes, it's time to visit to Dr. Brian Maloney. During the consultation, you will discuss your goals with Dr. Maloney, and he will evaluate the area around your eyes taking age and skin condition into consideration. After the consultation, he might recommend the liquid eye lift, a non-surgical procedure involving the use of dermal fillers and Botox® to contour the eye area.
Amazing Results
Walk in with expressionless, tired-looking eyes; and walk out looking rested and refreshed. This procedure has little or no downtime, and it's perfect for the person who might be considering blepharoplasty, or eyelid surgery.
Benefits of the Procedure
A liquid eye lift is a minimally-invasive procedure that may be a viable alternative to more extensive surgical procedures. Many first-time patients start with a liquid eye lift to see how surgery will improve their appearance.
Semi-permanent improvements—so you can change your mind
No scars
Minimal to no downtime
Easier recovery and healing
Most products give immediate results
Aging eyes detract from your overall looks and can even make you look unhealthy. With today's products and advanced injection techniques, many common eye conditions such as drooping eyelids or "sunken" eyes can be remedied and enhanced. The products used in a liquid eye lift can smooth, contour, and lift the eye and brow area. Imagine your eye area visibly enhanced with wrinkles diminished and skin smoothed in just one office visit.
What to Expect If You Choose a Liquid Eye Lift
Before the procedure begins, Dr. Maloney will use a topical anesthetic or local anesthetic to numb the area to be treated.
The injectable facial fillers used in this procedure are the same as those used for a liquid face lift:
A liquid eye lift involves the use of several injectable facial fillers to lift, plump, fill, smooth, and re-contour the treatment area. The filler is injected under the skin using a fine needle. Your treatment plan will probably also include Botox® Cosmetic to relax the muscles and diminish wrinkles.
Little to No Downtime
It usually takes less than an hour to inject the facial fillers into the layers of the skin. You will see the early results immediately, and the treated area will continue to improve over the next 3-6 weeks as the filler absorbs fluids and the body starts making new collagen in response to the filler. The most common symptoms experienced by our patients after a liquid eye lift are mild redness, swelling, and bleeding at the injection site. Ice is used during and after the procedure to inhibit swelling and bruising.
Trust Dr. Maloney
Dr. Maloney, a double board certified plastic surgeon, is an experienced and talented doctor. He has extensive experience with this procedure. If you decide to have surgery at any time in the future, rest assured; Dr. Maloney is a master of plastic surgery who uses all the most up-to-date techniques. He is a true artist who works with his patients to reach their aesthetic goals using surgical and non-surgical procedures. He and his staff are dedicated to providing 5-star care to their patients.
Additional Skin Rejuvenation Procedures
---
Dr. Brian Maloney and his staff at the Maloney Center for Facial Plastic Surgery use their experience, compassion, and artistry to provide personalized care and state-of-the-art facial plastic surgery treatments and procedures to the residents of Atlanta, Georgia, including Dunwoody, Sandy Springs, Alpharetta, Brookhaven, and Roswell. The liquid eye lift is one of Dr. Maloney's many specialties.