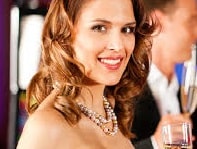 Whether you are concerned about PreJuvenation (maintaining a youthful look) or Restoration, there are many in-office, minimal to no downtime options available to get you ready for those holiday parties and pictures!
For decades now, the Maloney Center in Atlanta, GA has been successfully treating their patients with tried, tested and trusted injectables such as Botox, Juvederm™, Juvederm Voluma XC™, Radiesse™, and Restylane. Results have been extraordinary! Now we also offer Volbella™ and Restylane Silk™ for vertical lip lines and lip volume enhancement. If you are one of our injectable patients, you already know how great these products are, but if you are new to facial injectables, there couldn't be a better time to try them than now.
How Does Botox Work?
Botox injections are the perfect form of treatment to reduce the appearance of facial wrinkles and crow's feet in adults. It softens frown lines between the eyebrows, on the forehead, and crow's feet, the lines that fan out from the corners of the eyes and forehead furrows.
Botox injections can help block certain chemical signals from your nerves that cause your facial muscles to contract. The injections temporarily relax the facial muscles that underlie your skin, and cause these wrinkles. Botox starts working within 2-7 days and reaches its peak at 1 month and generally last from 3 to 4 months in most patients. Starting Botox treatments in these areas most often affected by muscle contractions before the wrinkles have time to develop (Prejuvenation) is ideal because you can prevent a wrinkle from forming.
How Do Facial Fillers Work?
Facial fillers such as Restylane™, Radiesse™, Juvederm™, Restylane Silk™, Juvederm Volbella and Juvederm Voluma perform a different function on facial areas than Botox. Facial fillers are used replace volume where aging has resulted in sunken or drawn areas such as the cheeks, nasolabial folds from nose to mouth, marionette lines along the mouth area to chin, and lips. Dermal fillers soften facial creases and wrinkles and help improve sign of aging. What's really amazing, you can see the results immediately and will be holiday ready when you walk out the door! You just need one day in case of a little swelling, usually only along the lip area which has very sensitive skin.
Newer Non-Surgical, Low Downtime Treatments
Tremendous advances have been made over the past year with in-office treatments. Here are some we recommend:
Micro-needling Combined with PRP (Platelet Rich Plasma)
The collagen induction treatment has been one of the most exciting treatments for improving aging skin or acne scars. Collagen induction therapy is a medical level micro-needling performed by Dr. Maloney combined with platelet rich plasma. Patients benefit from 1-3 treatments spaced one month apart.
Juvederm Volbella
Want beautiful, plump, luscious lips? Juvederm Volbella is the little sister to Juvederm Voluma, the number one facial filler. Volbella is designed to provide precise lip shaping, augmentation and vertical line control, resulting in silkier, smoother lips and natural-looking results. It can also be used for under the eyes and wrinkles anywhere on the face.
Kybella
Looking for a quick fix for that double chin? Kybella, an in-office injection will permanently remove the fat under the chin. The active ingredient has been used since the 70's but Allergan, the company who makes Kybella as well as Botox, has performed extensive testing to determine the appropriate dosing and concentration to be effective.
Are Facial Injectables Right for You?
Have you noticed some of your friends look great all the time and never seem to age? Perhaps they are among the increasing number of people turning to cosmetic procedures to improve signs of aging. The American Society of Plastic Surgeons (ASPS) shows continued growth in cosmetic procedures over the last year and state growth of 115 percent since 2000. Most popular surgical procedures include blepharoplasty (eye lift), nose job (Rhinoplasty), and Facelift. Botox tops the chart on non-invasive facial procedures.
Still have doubts? You can rest assured that Dr. Brian Maloney at Maloney Center in Atlanta, along with his entire staff, will make sure that you understand all the details about any surgical or non-surgical procedure you are considering. You will be able to review hundreds of before and after photos, read other patient testimonials, and ask as many questions as you like. They all want you to be completely comfortable with whatever decision you make. If you're ready to find out, call 770-804-0007 to schedule your consultation with Dr. Brian Maloney.
Maloney Center is located at 6111 Peachtree Dunwoody Road, Atlanta, Georgia and conveniently located to those living in Smyrna, Brookhaven, Lawrenceville, Decatur, Dunwoody, Sandy Springs and North Druid Hills.