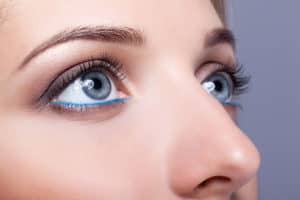 One of the first places to show aging is the upper eye area. Many people with excess skin hanging over their eyes can appear tired or even angry. Eyelid surgery or Blepharoplasty is the facial cosmetic procedure for removing excess hanging skin from the upper eyelid. Eyelid surgery can allow your eyes to become refreshed and full again.  New advanced techniques allow double board certified Dr. Brain Maloney to provide beautiful results for your eyes in less time than you would think.
Blepharoplasty is an outpatient procedure that can reverse signs of aging and restore a more vibrant and revitalized appearance. Dr. Maloney performs blepharoplasty surgery in his office using only local anesthesia or twilight general anesthesia depending on where procedure is performed. The procedure is safe and there is absolutely no pain. The incision for blepharoplasty is hidden in natural creases of the eyelid using fine, dissolvable sutures and it heals extremely well. Results are a more rested, youthful appearance.
Dr. Brian Maloney has over 25 years of experience in facial plastic surgery and has performed thousands of eye lid surgeries. Blepharoplasty can be performed as a single surgery or combined with other facial procedures such as face lift, mini facelift, chin augmentation, or nose surgery (rhinoplasty).  However, additional surgeries may require general anesthesia and a longer recovery period.
Recovery from Eyelid Surgery
Most all patients will experience some bruising or swelling for about a week. Post procedure care is very simple and consists of applying cool compresses to reduce swelling for the first few hours after the procedure. Most patients can resume normal activities such as work or light housekeeping in about 4 to 6 days. Once you are out and about, people will remark on how fabulous and rested you look, but will never guess what has made the difference!
How Long Does Eye Lift Surgery Last?
Aging continues even after you have any type of facial plastic surgery. In many cases, an eye lid procedure will last 10 years or more and some patients never need additional correction. Even though you continue to age, you will still retain the results from this procedure.
Ready to Proceed?
There is never a better time than now to proceed with this procedure. You will be happy with the results for years to come! Call and schedule your private consultation with Dr. Brian Maloney on Peachtree Dunwoody Road in Atlanta. During your consultation, Dr. Maloney will listen to your concerns and provide a comprehensive evaluation. If you live in Alpharetta, Roswell, Sandy Springs or Dunwoody you are just a short drive away. If you are coming from out of town, we have complete travel arrangements to help you with your trip.
Before & After Eye Lift, Blepharoplasty Patients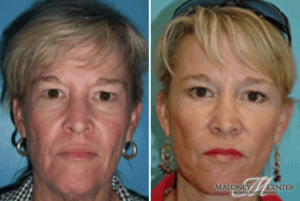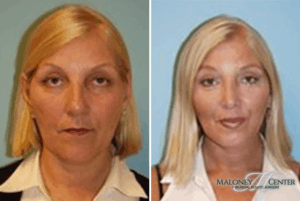 To see more eye lift Before and after photos photos click here+
© 2017 Maloney Center for Facial Plastic Surgery. All rights reserved.