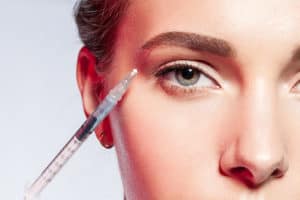 Many of my patients come to my Atlanta office with a lot of questions about cosmetic procedures.  That's a good thing.  Any type of medical procedure demands that patients do their homework.  The more you know, the better prepared you are. One treatment I've been asked many times about is Botox®.
Oftentimes, my patients ask me whether Botox® is a medical treatment or cosmetic procedure. My answer is simple –  it's BOTH.
The FDA has approved Botox® for a variety of uses. Some are cosmetic, some are medical. Although Botox® can be used for both purposes, how it works, how it's administered and its efficacy are all the generally the same.
How is Botox® Used as a Cosmetic Procedure?
In my practice, I use Botox® to smooth facial wrinkles. When applied to the desired area, Botox® relaxes facial muscles that have tightened over time and created lines and wrinkles. These are muscles that repeatedly contract because you use for everyday things like frowning, smiling, squinting or making facial expressions. Botox® loosens these muscles, giving your face a refreshed appearance.  Cosmetic areas I treat are forehead, crow's feet, frown, lip and neck wrinkles
Botox® treatments are a minimally invasive and generally last three to four months for most patients. Deep wrinkles may require multiple sessions to achieve natural looking skin rejuvenation. Patients like the fact that cosmetic Botox® generally requires no downtime after treatment so they can keep their schedules intact.
Can Botox® Be Use for Medical Problems?
There are other uses of Botox® for people who have a variety of medical needs.  For example, Botox® is used to treat young scars, and severe underarm or palm sweating. Botox® is also used to treat cervical dystonia – a neurological disorder that causes severe neck and shoulder muscle contractions.
Doctors also use Botox® to address uncontrollable blinking, misaligned eyes, chronic migraines and even overactive bladder.
Consult with a Qualified Doctor on Botox® Treatments
Whether you use Botox® for cosmetic or medical reasons, it's important to have a thorough consultation with a qualified physician or plastic surgeon before deciding on any procedure.
Consultations are very valuable to me because they give me an opportunity to get to know my patients and understand what they want to achieve with cosmetic surgery. During my consultations, I review patients' medical histories and answer their questions about cosmetic procedures. Consultations are also an excellent time for patients to meet the fantastic team at the Maloney Center.
If you're interested in having Botox® treatments in Atlanta, contact me at 770-804.0007 for a consultation.