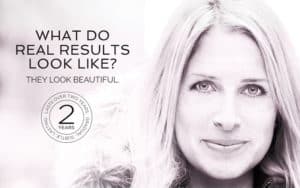 Sculptra is unique among all the facial volume building injectables. Most of the commonly used fillers like Juvederm, Restylane, and Radiesse are placed in superficial lines or folds. Sculptra is injected deep in the tissues providing optimal volume correction where it is needed most. Then over the next several months, Sculptra works to stimulate your own tissues to produce collagen which fills out the areas where fat has been lost due to aging. Therefore, Sculptra is considered a new class of facial fillers known as bio-stimulators.
Dr. Brian Maloney, at Maloney Center in Atlanta, GA explains to his patients that the loss of volume is occurring deep to the skin. Facial volume gives support and structure to the skin, thereby keeping the skin firm around the cheeks, eyes, jaw-line and mouth. Loss of volume in the temple areas of the face can even cause your eyebrows to drop and create an aged and hollowed appearance to the upper face.
Sculptra is one of the most popular fillers offered by Dr. Brian Maloney at Maloney Center in Atlanta, GA. Some of the main advantages of Sculptra include virtually no downtime, little to any discomfort, and the results are gradual and natural, so friends, family, and co-workers will not notice the gradual changes in your face. They'll just wonder how you're keeping so young looking! Another benefit is how long lasting Sculptra can be, with results lasting at least two years.
To learn more about Sculptra, watch this informative video provided by the manufacturer of Sculptra. If you think Sculptra might be the right facial volume filler for you, contact the Maloney Center in Atlanta, GA and schedule a complimentary consultation with Dr. Brian Maloney. He has patients coming for Sculptra from all over the Atlanta metro area including Alpharetta, Roswell, Marietta, Sandy Springs, Johns Creek, and Milton.