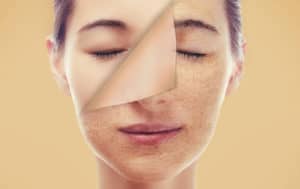 Over time, environmental factors and the aging process create wrinkles and folds in your skin that greatly affect your appearance. Facial rejuvenation utilizing fillers, neuro-toxins, fat melting injections and micro-needling are effective ways to remedy these conditions and revitalize your look without major surgery.
There are several FDA-approved facial rejuvenation products currently on the market. Different products are used to treat different areas of the face and skin. Knowing more about these products will help you choose the best skin rejuvenation treatments for your beauty goals.
Variety of Skin Rejuvenation Treatments
Skin rejuvenation treatments involve using products with varying active ingredients and applications.
Juvederm®, Restylane®, and Voluma® contain hyaluronic acid, a substance that is naturally produced in the body. It is a component of the body's connective tissue that is depleted as a person ages. Hyaluronic acid hydrates, lubricates and protects skin tissue.
Juvederm® comes in several gel consistencies and is used to erase smile lines and folds around the nose and mouth. It also can be used to treat fine lines and enhance lip volume. Results typically last up to one year.
Restylane® is used to enhance facial contours and lips as well as lines and wrinkles on the face. Results can last as long as twelve months.
Voluma® is the latest gel that aids in balancing out facial features and adds volume to the cheeks, cheekbones and chin. Voluma® treatment can last up to 24 months.
Can Skin Rejuvenation Treatments Erase Smile Lines?
Botox® is a botulinum toxin which relaxes the muscles that cause lines and wrinkles on the forehead, between the eyes, and the lines at the outer edges of the eyes known as "crow's feet" . Botox® is a temporary treatment with results that last for up to four months. This makes it an excellent way to try out cosmetic treatment without undergoing a permanent procedure.
Radiesse® is made with calcium hydroxyapatite, a synthetic product that is injected underneath the skin to reduce smile lines, marionette lines and chin wrinkles. Radiesse® stimulates the growth of collagen which produces results that can last up to twelve months.
Sculptra® is a form of poly-L-lactic acid used for treating deep smile lines, marionette lines, and wrinkles. Sculptra® encourages the body to produce collagen. This adds volume to the face and aids in diminishing lines and wrinkles. Sculptra® is slowly absorbed by the body and results can last two years or longer.
Kybella is the latest skin rejuvenation procedure to be FDA approved. It is a substance that is injected to melt the fat under the chin.The injections are given one month apart and may require up to six treatments. The range of effect is from six months to permanent.
Dermapen is an exciting treatment that stimulates the platelets to release growth factors and repair the sun-damaged or acne scarred skin. A surgical grade tip with several acupuncture needles is used to help infuse a variety of growth stimulating agents into the skin.
Are Skin Rejuvenation Treatments Painful?
While each of these products are administered via injection, most procedures are done using a numbing cream applied to the skin to maximize patient comfort. In addition to being virtually painless, these procedures promote fast patient recovery with minimal down time.
As with any cosmetic procedure, selecting a highly qualified doctor is key to ensuring optimal results. Dr. Brian P. Maloney is a national trainer for Allergan, manufacturers of Juvederm®, Voluma® and Botox®.
Dr. Maloney is certified by both the American Board of Facial and Plastic Reconstructive Surgery and the American Board of Otolaryngology.
Dr. Maloney and his expert staff provide patients throughout the greater Atlanta area with personalized and compassionate care.
If you're considering a skin rejuvenation procedure, contact the Maloney Center for Facial Plastic Surgery at 770-804-0007 to schedule a consultation.